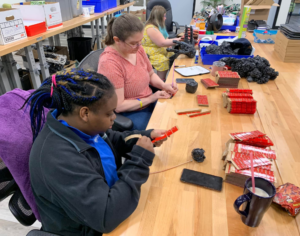 Welcome to our blog! Here, you will find up-to-date information regarding upcoming events, announcements, Work4Eli in the news, getting to know our team members and our processes. But first, here's a little bit about us …
Started in 2018, Work4Eli helps solve two big problems: the e-waste epidemic and limited employment opportunities for adults with disabilities. Our team has grown rapidly over the last 5 years and we have been able to provide more than 22,000 working hours for adults with disabilities. Your pickup or drop-off provides hours of employment for our team members.
We work with local businesses and organizations in and around Atlanta to properly dismantle and recycle a variety of electronic items – including hard drives, monitors, power supplies, switches, scanners, phone systems, printers, workstations, and more.
To learn more about our program, feel free to contact us.